Trainee Program
We are inviting recent graduates to join our Young Talent Program to develop their career as banking specialists in various business areas or professions. Under the 18-month Program, candidates will be placed in designated departments that best suit their career aspiration, personal strengths and personality traits, with a series of intensive classroom training, 2-month branch attachment and project assignments. To facilitate candidates' familiarization with the work and learning environment, experienced mentors and coaches will be appointed in the Program.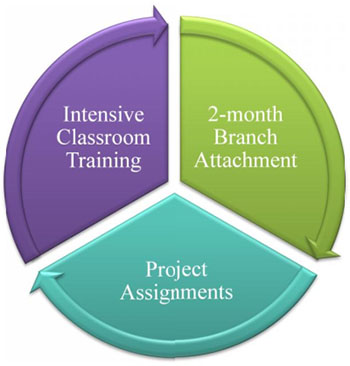 After nourishing development in the Program, candidates should be equipped with substantial knowledge and experience to pave their way to banking specialists in the profession.
Graduates of any disciplines, with strong passion to develop in banking profession, are invited.
For candidates who are interested to take the first step to a bright career with us, please send us application letter with detailed resume by e-mail at hrp@cmbwinglungbank.com.
The data collected will be used for recruitment purpose only.
2.

Banking Talent Programme
CMB Wing Lung Bank Limited ("the Bank") is delighted to be one of the participating banks in the Banking Talent Programme organized by the Hong Kong Monetary Authority. The Bank treasures Talents as one of its great mission and always conducts different kinds of training in nurturing talent and cultivating leadership which demonstrate to young talents that they are valued. The Bank will offer up to 2 placements in retail banking division. Through in-house programme and on-the-job trainings, graduates will be given good exposure to frontline business and fundamental banking knowledge which should be valuable to their future career.
The Bank welcomes graduates with ambition to start their career in the banking industry. The Programme is surely a good chance for interested graduates to take their first step to this industry.
General Banking Trainee (6-month contract)
Responsibilities:
Deliver quality customer service in response to customer enquiries and needs
Participate in various marketing campaigns and events of wealth management in branches
Requirements:
Students graduating with a bachelor's degree in 2021 from universities in or outside Hong Kong and who are Hong Kong residents lawfully employable in Hong Kong
Have strong passion to develop your career in the banking industry
Proactive, strong service-oriented, customer-focused and pleasant
Good communication and interpersonal skills
Proficiency in both English and Chinese, Fluency in Putonghua a definite advantage
Programme Key Dates:
Application Starts on 1 May 2021
Programme periods: 1 September 2021 to 28 February 2022
Please send us application letter with detailed resume by E-mail at hrp@cmbwinglungbank.com.
The data collected will be used for recruitment purpose only.
Search Results