Organized Staff Volunteer Activity – Adventure in Tai O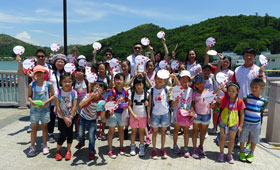 A group photo of our volunteers and children at Tai O Pier as a kick off of the day.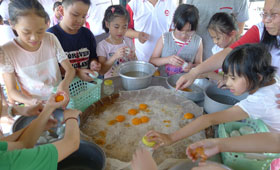 The children made their concentrated efforts on making their own sun-dried duck egg yolks.
Prev
Next
The Bank has been co-hosting volunteer activities with the Hong Kong Young Women Christian's Association (HKYWCA)* since 2012. In July 2015, the Bank's volunteers have had an adventure day at Tai O (also known as the "Venice of Hong Kong") with the underprivileged children from Tin Shui Wai. On the day of event, we were led by locals to explore the uniqueness of Tai O and were able to try sun-dried duck egg yolks and to grind beans into porridge. This allowed the children and volunteers a chance to understand the traditional Tai O culture and live like a local!
*The Hong Kong Young Women's Christian Association (HKYWCA), being one of Hong Kong's largest and oldest women's organizations in Hong Kong, was established in 1920. HKWYCA has served the community with "Enhancement of Life" as their main ambition.
Search Results