Sponsored UNICEF Charity Run 2018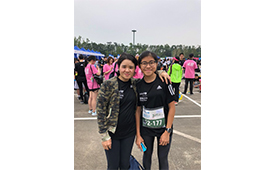 Colleague joined the 3km race together with family member for a healthy and meaningful weekend.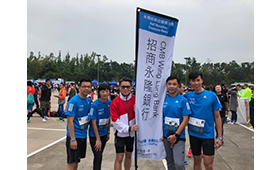 5 colleagues formed a team to represent the Bank in the Corporate Relay.
Prev
Next
The annual UNICEF Charity Run* is a highlight for runners in Hong Kong and is also one of the sponsored events for the Bank to give back to the society. The 13th UNICEF Charity Run has been held on 25th November (Sunday) in Hong Kong Disneyland Resort and Sunny Bay. Apart from sponsoring a team of 5 to join the Corporate Relay by donating HK$68,800 through CMB Wing Lung Foundation Limited, the Bank has also sponsored 30 colleagues to join the 3km, 5km, 10km and half marathon races. Colleagues who joined the 3km race are also sponsored to join the event together with one of their family members too, joining hands altogether with the Bank to UNICEF to fight against AIDS.
*UNICEF Charity Run is organized by the Hong Kong Committee for UNICEF (UNICEF HK) and supported by the Hong Kong Amateur Athletic Association (HKAAA). It is the second largest long-distance running event in Hong Kong, which aims to support the work of UNICEF to prevent the mother-to-child transmission of HIV in over 150 developing countries around the world.
Search Results