Sponsored Healthy Dancing Campus of Youth Outreach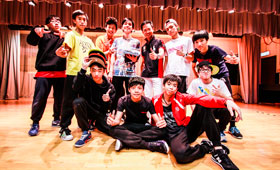 Assistant General Manager of the Bank, Derek Chung (back row, 3rd from right), joined as the judge of the dancing competition of the project.
Prev
Next
In 2013/2014, the Bank has once sponsored the 1-year project, Healthy Dancing Campus, organized by Youth Outreach ("YO")*. Through organizing Hip Hop dancing team in schools, the project unleashed students' potential and helped them establish correct values.
Apart from teaching youngsters Hip Hop dance, the project also provided social workers' consultancy services. Participating students have had the chance to join dance performances in different schools, helping to promote the idea of healthy campus. The "Healthy Dancing Campus" project has successfully reached around 3,000 high risk junior secondary school students and trained up about 125 of them as members of the dancing team.
*YO was established in 1991 and is the only organization providing 24-hour services to high risk youngsters. It aims to help high risk youngsters to grow into youngsters with positive attitudes.
Search Results