Supported Dress Casual Day 2017 of The Community Chest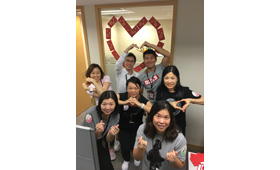 To match with the theme of Dress Causal Day 2017, participated colleagues dressed up in a way that represent themselves.
Prev
Next
The Bank has continued to support the Dress Causal Day in 2017 to encourage staff to contribute for a good cause. The Dress Causal Day was held on 12th October (Thursday), with "#WEARIAM Be Yourself" as the theme. Over 820 staff of the Bank has joined the event and raised over HK$85,000. The donations raised by the Bank were allocated to support the Children & Youth Services of The Community Chest.
*With concept originated from the United States, the Dress Causal Day was first organized in Hong Kong in 1993. In 2016, the Dress Causal Day was supported by over 330,000 participants and raised more than HK$1.9 million.
Search Results