Supported Mooncakes for Charity of The Community Chest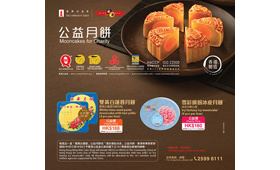 For every box of traditional and icy mooncake sold, HK$52 and HK$42 is donated to The Community Chest respectively.
Prev
Next
It is the Bank's 2nd year to share the joy of Mid-Autumn Festival with hundreds of thousands of needy in our community. In 2017, the Bank has raised a total of HK$33,894 by ordering over 700 boxes of mooncakes, in which the donations was allocated to the 161 member social welfare agencies supported by The Community Chest.
*The Community Chest has joined hands with Wing Wah Cake Shop in launching Mooncakes for Charity since 1990, called on the purchase of mooncake vouchers while raising funds at the same time, to share holiday festive and care with the underprivileged.
Search Results