Greeners Action - Lai See Reuse & Recycle Program 2012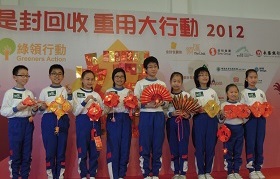 A group of primary students are holding various pendants making use of recycled lai see packets in the ceremony.
Prev
Next
CMB Wing Lung Bank is the 1st bank to sponsor the Lai see Reuse & Recycle Program, hoping to lead and promote the reduction of wastage and smart use of limited resources in the industry. Lai see Collection Boxes are placed in our Headquarter along with 28 branches around Hong Kong to facilitate the community to participate in this meaningful event.
Search Results