Sponsored Lai See Reuse & Recycle Program 2015 of Greeners Action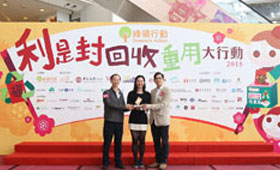 The Bank would like to play a role in environmental protection with our customers and colleagues.
Prev
Next
It has been the fourth consecutive year for CMB Wing Lung Bank to sponsor the "Laisee Reuse & Recycle Program" organized by Greeners Action*. Laisees' Collection Boxes are placed at 29 branches of CMB Wing Lung Bank over Hong Kong to facilitate the community to participate in this meaningful event and hope to share the importance of recycling and waste reduction to our society.
*Established in 1993, Greeners Action aims at promoting green message and to follow closely about environmental protection issues in the community. Greeners Action has been organizing the Lai See Reuse & Recycle Programme since 2009, which encourages the public to avoid the overuse of new lai see packets and to promote the idea of reuse and recycle.
Search Results